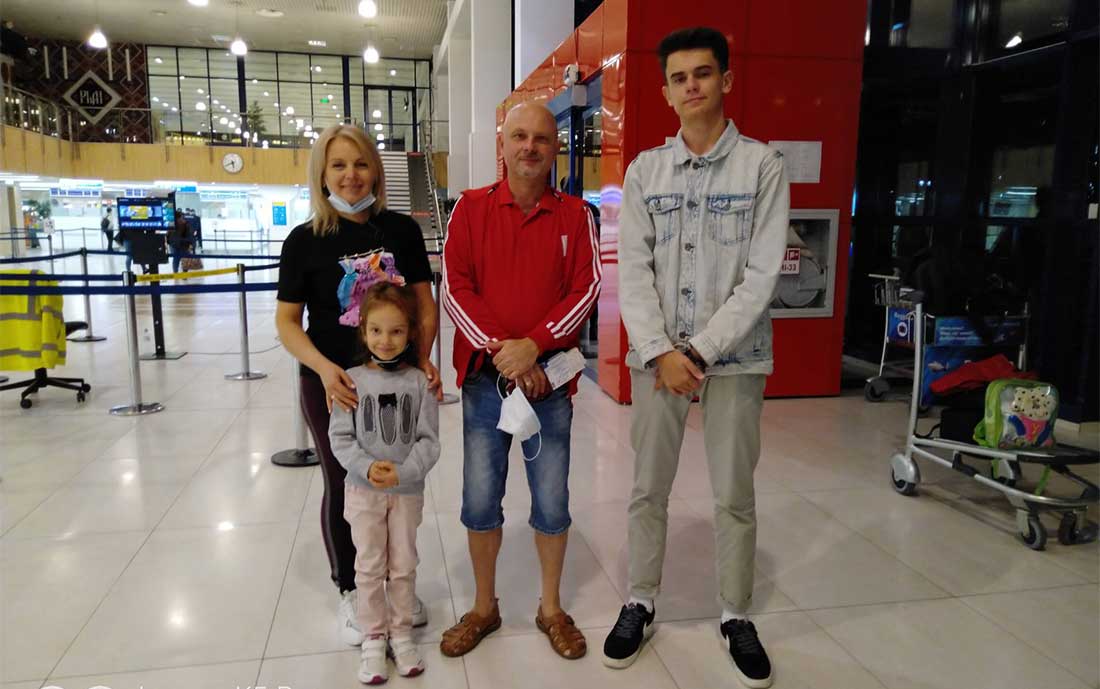 "Many families who decide to repatriate to Israel are concerned about the question: where to start? One way or another, in order to successfully assimilate into a new environment, it is important to honestly answer yourself a couple of questions: Do I really want to become an Israeli and get rooted in this country?  And what personally am I willing to sacrifice on the way to this goal?  In fact, a lot can be done, and no matter how easy it may sound, everything is in our hands. Therefore, first of all, you need to take your life into your own hands, draw up a plan, set up priorities and gradually, step by step, move in that direction. After all, a tree, in order to bloom and bear fruit, is being prepared for a long time. So, our family was ready to be patient."
Evgenii and Elena along with their children, Alisa and Gleb, did not turn up at the Jewish Agency by chance – the issue of making Aliyah was discussed day after day in the family.  Unfortunately, they couldn't decide on this earlier as Evgenii's mother was seriously ill.  The family's Jewish roots come from her and it was she who asked that we, as a family, return to our roots and origins.  In Hebrew the word 'Aliyah' means 'ascent'.  The concept is complex, multifaceted, implies reaching a new level, both physical and spiritual.  But, as you know, ascending requires more effort than descending!
The family appeared in the Jewish Agency office in Bendery for the first time on 21 January 2019.  The JA coordinator there introduced them to the goals and objectives of the Jewish Agency.  It's so good, and perhaps surprising, that there is such an organization as the Jewish Agency which acquaints potential Olim with the country to where they are going; where they are going to live forever – acquaints them with the way of life, the culture, traditions and customs of this country – gives assistance in collecting the necessary documents and helps to determine the best repatriation program.  Evgenii continues the story:
"There are many difficulties to be overcome to achieve the goal of making Aliyah – both financial and moral.  And I would like to focus on this in more detail.  Our family turned to the coordinator of Ezra International in Moldova – Alla – and talked about life and the difficulties we faced in our Aliyah process during a full year.  Her reaction was immediate.  You know it's so great that Ezra exists which helps in the collection, execution and re-registration of the necessary documents, which provides assistance in purchasing necessary food and essential goods and even celebrates the holidays.  Ezra led us through the entire preparation process, supporting us financially and morally.  Thank you for your help and support.  While collecting and processing documents, they accompanied and directed us.  This is real support and assistance.  How important it is for repatriates (even more so in the difficult time associated with the unfolding pandemic) to feel care and support from the state which they are leaving in the near future.  Is there something similar in other states?  I can hardly believe it.  On 15 September 2020 we received the long-awaited Visa to enter Israel for permanent residence.  What seemed impossible until recently has become a REALITY!!  On  September 29, 2020  we left for Israel!
"A new life and homeland await us.  Believe it – all dreams come true!"